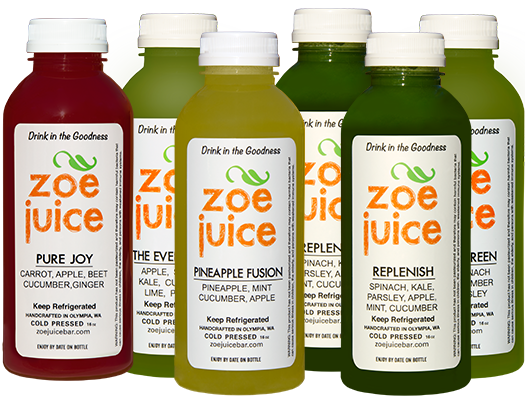 3 Day Juice Cleanse
Doing a juice detox has so many benefits for your body and health. If you're looking to flush out unwanted toxins while infusing your body with loads of nutrients, our 3 Day Juice Cleanse is for you. Get the protein, fiber, and iron to energize your body from green juice in our Evergreen and Replenish varieties. You will also get the flavor and refreshment you're looking for with our Pure Joy and Pineapple Fusion blends of delicious raw juice. Mix it up throughout each day to design your perfect juice detox regimen!
When you order from Zoe Juice Bar, you'll be getting nothing but 100% raw, cold pressed juice. We don't add sugar, preservatives, or even extra water to our juice. It is gluten free, soy free, dairy free, and completely vegan.
Simply order your juice cleanse online and you can pick it up at Zoe Juice Bar!
Each of the three days of your juice detox features the following 16 ounce bottles:
2 Evergreen (greens) Apple, Spinach, Kale, Cucumber, Lime, Parsley

2 Replenish (greens) Spinach, Kale, Parsley, Mint, Apple, Cucumber

1 Pure Joy (roots) Apple, Carrot, Beet, Cucumber, Ginger

1 Pineapple Fusion (citrus) Pineapple, Mint, Cucumber, Apple